Fitbit Ionic bands and colors: explore the sport, leather and classic looks
2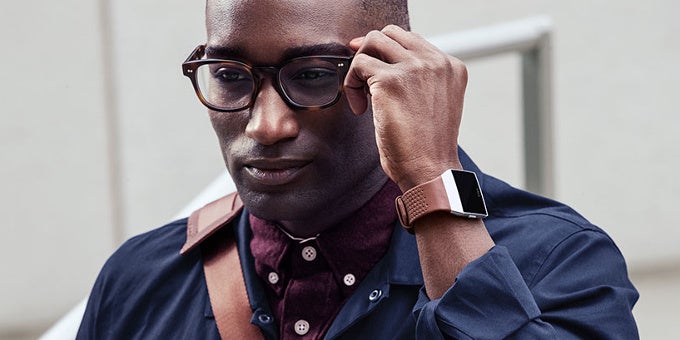 The Fitbit Ionic is the company's first fully-functional smartwatch and while it features a rather edgy and not particularly good-looking body, it is available in a wide selection of bands of different color and material that can add up a lot of style points.
Leather bands can add up style to the raw look of the Ionic
You have three styles of bands for the Fitbit Ionic: sport, leather and classic. The sport one is perforated, so it's very breathable and its goal is to provide maximum comfort for workouts. Next up, the leather bands are the one that you want to rock with the Ionic when you are out in town, as they look stylish and refined. Thirdly, there are the classic bands that are somewhere in between and good for all occasions.




Keep in mind that in the Fitbit Ionic package, you get both large and small size bands, so you can choose the better fit for yourself, while when you order bands separately, you need to settle on one size: small or large. Of course, the Ionic features interchangeable straps and you can find two clips underneath the aluminum body of the Ionic itself: it's a subtle mechanism, but easy to use. With no further ado, here are all the available bands that you can get for the Fitbit Ionic:



Sport bands
Sport bands are priced at $30 and are made of perforated silicon.
The sport band straps are fastened with a buckle and a pin, secured in one of many holes. Fitbit uses a cool two-toned designed for that sporty look and breathability.
Leather bands
The leather bands are available in two colors: "Cognac" and "Midnight Blue", and cost $60. The price is much lower than the one on
Apple Watch
leather bands, and the finish on the straps looks very nice with those tiny perforations. The straps have buckle fastening, but the strap goes through a loot and does not have perforated holes with a pin.
Classic bands
Finally, you have three options for "classic" bands, an in-between look that can suit all kinds of occasions. You have a blue-gray with silver-gray clasp classic band, as well as a charcoal with smoke-gray clasp and a slate blue with burnt orange clasp. The price for these is also set at $30.
Do you like the bands and straps on the Fitbit Ionic? Are you going for the leather look or for a more sporty one?