Fitbit debuts Father's Day sale with deals on smartwatches, trackers and accessories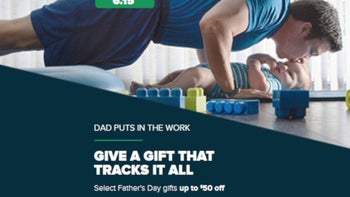 Fitbit is making it easier for customers to buy a gift for Father's Day by lowering prices on some of its most popular smartwatches, fitness trackers and accessories. The promotion starts today and ends on June 15, 2019, at 11:59 pm PDT.
The company's most recent smartwatch, the
Fitbit Versa
is $20 off, while the Fitbit Ionic is $50 cheaper than usual. The
Fitbit Charge 3
is getting a $30 discount as well, but the other fitness trackers haven't been included in the sale.
On the bright side, you can now save up to 20% on a handful of accessories that work with the
Inspire and Inspire HR
, two fitness trackers that aren't on sale. Or, you can save up to 25% on all Versa accessories, which will work with the Versa SE, Versa, and Versa Lite.
Also, if you plan to grab the Fitbit Charge 3 while it's on sale, you can take a look at some of the accessories that go with it, which are 20% off for a limited time. All deals listed on Fitbit's website can't be combined with other discounts or applied after the order is placed.
Keep in mind that you will also receive 2-day shipping for free during the promotion, but this offer will end earlier on June 10, 2019, at 11:59 pm PDT.