First ad for the Nokia Lumia 930 is released
36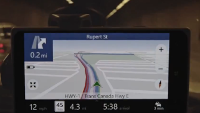 Roadtrip! It's time for three friends to grab their
Nokia Lumia 930
handsets and take to the road. The Windows Phone 8.1 powered handset proves itself to be a worthy passenger. With the camera, the trio can snap photographs and take videos, allowing them to look back and remember all of the fun they had on the trip.
The roadtrippers will be happy that their Lumia 930 came along for the ride, when they use Windows Phone 8.1 to find restaurants in an unfamiliar area. And of course, the Nokia Lumia 930 can be used for turn-by-turn navigation, so that our travelers don't get lost when they are motoring across a country's highways.
With summer upon us, and school out for the season, now is certainly the time of the year when roadtrips are prevalent. To see how the Nokia Lumia 930 comes in handy when you're out and about, click on the video below to see a new 90 second ad for the Windows Phone 8.1 powered handset, which has been called the
Nokia Lumia Icon
(a Verizon exclusive) for the rest of the world.
source:
Nokia
via
WPCentral