First Firefox OS phone coming to Europe this Summer: the Alcatel One Touch Fire
6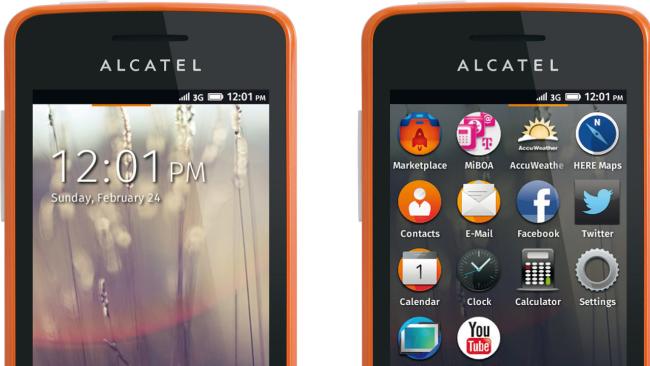 It's been almost a year since Mozilla announced its plans to "free the web and mobile" by developing a completely web based phone operating system, Firefox OS. Today, this plan was announced to materialize in device arriving in Europe this Summer.
Those will be mostly entry-level device and one of the first to land will be the Alcatel One Touch Fire, a device coming on Deutshe Telecom this Summer.
The Alcatel One Touch will first come to Poland before rolling out to other European countries.
source: Mozilla

Deutsche Telekom brings the first Mozilla smartphone to Europe
• Alcatel ONE TOUCH FIRE with Firefox OS will be available in Poland this summer
• More countries to follow this year
• DT and Mozilla in development partnership for more openness and competition
between systems
Deutsche Telekom is the first mobile communications services provider to launch a smartphone with the new Mozilla operating system – Firefox OS – on the European market: Sales of the Alcatel ONE TOUCH FIRE begin in Poland this summer. Further countries in Eastern Europe will follow in 2013. DT and Mozilla, along with other partners, have been working together to develop an open-source standard for mobile operating systems for a long time. The partnership aims to create more competition on the market and more choice for customers. The Alcatel ONE TOUCH FIRE represents the first milestone achievement.
"Partnerships are an important method in paving the way for innovations. We rely on open platforms because we want to create freedom of choice on behalf of our customers," said René Obermann, Chairman of the Board of Deutsche Telekom at the Mobile World Congress in Barcelona. "That's why we support Mozilla in developing an innovative and open standard for mobile terminals. The launch of the first smartphone in Europe with the new Firefox operating system is an important step on the way to more competition between the different ecosystems."

Deutsche Telekom has been involved in the development of the new Mozilla operating system for smartphones since the project began in 2011. On Mozilla Firefox OS, all apps and websites function within the browser environment.
Only applications that are written in the most common Web languages – in particular HTML 5 – will be supported. These apps can either be opened in the browser the same way as websites or pre-installed like voice, text messaging and address book applications. DT contributes not only the strategically relevant building blocks, such as those for security, it also provides a network operator's perspective on technical requirements and coordinates collaboration with smartphone manufacturers. Beyond this, Deutsche Telekom supports Mozilla's development community by organizing various events such as the Mozilla Work Week in Berlin, a "hackathon" in Warsaw and App Days in San Francisco.

Deutsche Telekom is cooperating with Mozilla to promote open standards and competition between ecosystems: A developer-friendly operating system drives innovative applications and makes better integration of individual services and platforms possible. DT sees great potential in this new approach, as well as in that of developing a good smartphone at a reasonable price. With the Alcatel ONE TOUCH FIRE, which will be powered by a Qualcomm Snapdragon processor with a one- gigahertz CPU, Deutsche Telekom is launching an "affordable" Mozilla smartphone on the European market. The device will be available in Poland as of this summer – further countries will follow over the course of 2013.