Find out if your Android device is exposed to MMS attacks using Zimperium's Stagefright Detector App
11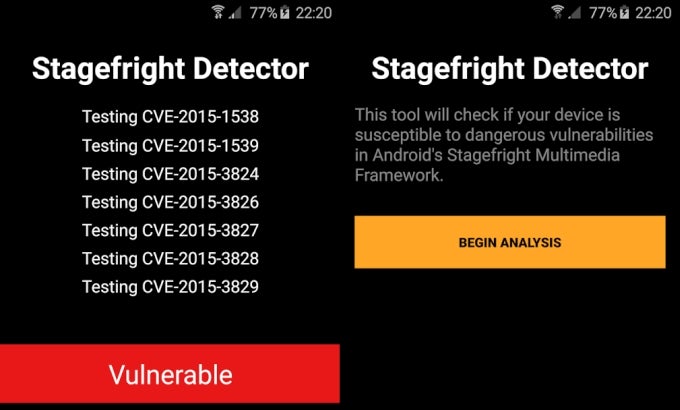 Last week, security researchers from Zimperium have reported on a vulnerability in Android's Stagefright media playback library, one that is thought to affect about 950 million active Android devices. In a nutshell, potential hackers can take control of the affected smartphones by sending a malicious SMS. For more details on the Stagefright vulnerability, check out our
original post here
.
Zimperium has now launched an app that lets users check if their smartphone or tablet is exposed to the Stagefright vulnerability. The app is intuitively called the Stagefright Detector App, and can be downloaded for free from Google Play through the source link below. As the name suggests, the app does little else than to check if a certain device is exposed to vulnerabilities in Android's Stagefright Multimedia Framework. It will not patch vulnerable devices, but at least you'll know that your device is at risk.
Google and Samsung have recently
started patching some of their devices
, with Spring being the first carrier in the US to send out fixes to its carrier-specific handset versions. Other smartphone makers such as Alcatel announced plans to patch their handsets soon. Just in case your handset has not been patched yet, this is what you should do to
protect your Android device from the Stagefright exploit
.
Interestingly, Zimperium announced that the app will "anonymously" collect data - including fingerprints - from vulnerable devices. According to Zimperium, this data will be used to create future patches. While this may be true, some users will certainly find it a bit unnerving that an app designed to detect vulnerabilities actually collects data and sends them back its creators.