Fieldrunners HD finally available to US customers in the Android Market
2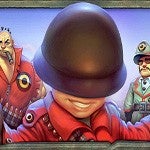 Good news for AT&T users, and American users who have been staying away from the Amazon Appstore, you can now officially purchase Fieldrunners HD for your Android device. The long road of exclusivity, split releases and pricing changes is over. Fieldrunners HD is finally in the American Android Market.
The story is one we've been following all along the way. First, Subatomic wanted to release Fieldrunners free on Android for the first day, then bump the price to $2.99 after that, but Google's rules don't allow free apps to become paid. So, Amazon came along offering the pricing structure that Subatomic wanted, but at the price of a two-week exclusivity deal. Ultimately,
Subatomic split the difference
and released their game for international users through the Android Market for 99 cents on day one, and for free for US users through the Amazon Appstore. The two-week exclusivity is now over, so any American users without the Amazon Appstore can now purchase the game in the Android Market.
Fieldrunners HD will set you back $2.99, but the game is one of the best mobile tower defence games on any platform, and exclusively for Android has gotten an HD visual refresh.