Fast Burst camera brings 30-shots-per-second burst mode to any Android device for free
21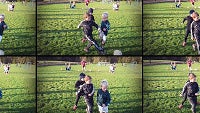 The current crop of high-end Android devices stands out not only with its quad-core processors, amazing hardware and huge screens, but also with one feature that really makes a difference when taking pictures -
burst shot
. It's brilliantly realized on the HTC One X which can take up to the amazin 99 photos with an amazing speed, and the Galaxy S III is also worth a mention even though it can only snap 20 pictures in burst mode before stopping to take a breath.
But what if you don't have those high-end Andorid devices and still want to capture a moment when it really matters? If you've tried capturing an image of a moving object on an Android smartphone, you already know just how challenging this could be. Think about those fancy wedding (or party) photos when everyone jumps and you have to capture that short moment with the whole crowd in the air. Yes, that's when you need burst mode capture and
Fast Burst Camera
is the latest app to offer that functionality.
The best thing about it is that it's already available on Google Play and it's free in its lite, ad-supported version. For the full functionality, you'd still need to pay $3.99, but it seems like it's worthit. It does what it say it does - straightforward and with no catches. The premium version of the app also gives you access to features like auto-focus and lighting setting.