Facebook goes down on Monday afternoon; New York City, Florida, Texas and California affected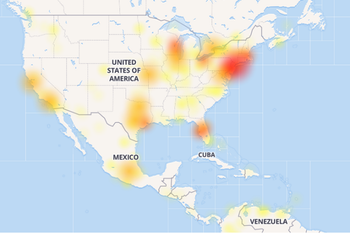 If you spend much of your typical day on Facebook, you might have suffered some withdrawal on Monday as the social media app was down for much of the afternoon.
Based on information that was sent into downdetector.com
, the problem started just before 1pm Eastern Time when 52% of those filing complaints said that there was a total blackout with the app and website. 32% said that that they couldn't log in to Facebook, and 15% couldn't open any apps from the site
Even though the number of Facebook users has been on the decline due to the theft of personal data (
30 million users recently had their information taken
), there are millions more who still depend on the Facebook app or website to make it through the day. Some specific complaints include the inability to post to Facebook when a picture is included with a message, and some users were receiving posts out of order.
According to a realtime outage map (see image at the top of this article), serious issues were popping up for Facebook users in the Northeast U.S., Florida, Texas, California and parts of Mexico. The peak number of complaints to downdetector.com reached 1,261 between 11am and approximately 1:30pm ET. After a brief recovery period, there were no complaints until 2pm ET when issues starting cropping up again. While the number of those using Facebook experiencing a problem has been shrinking, there still appears to be some problems for those using Facebook in the states this afternoon.