Evernote goes shopping, popular image editing app Skitch is the first stop
The ubiquitous all-platform note-taking application Evernote goes on a shopping spree – the company behind the app recently raised $50 million and its first
acquisition
on the road to growth is the popular
image editing and annotation app Skitch
for Mac. Right after the purchase, Skitch will go from $20 on the Mac App Store to free, but what's most interesting for smartphone users is that an
Android version
of the application has already hit the Market for free with two iOS versions for the iPhone and the iPad coming soon. "We will put Skitch everywhere," Evernote CEO Phil Libin said. The iPad version will benefit from an overhaul in the UI, but looks of the app have changed for its non-mobile version as well.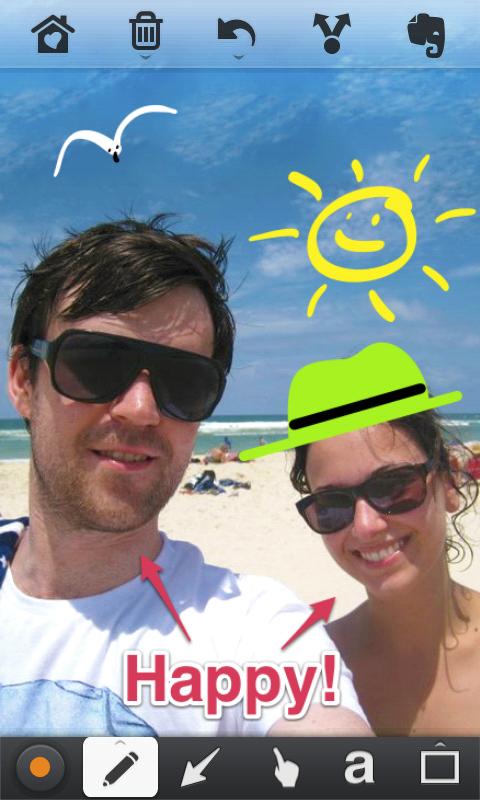 Skitch for Android
But it's not just more platforms -
Evernote and Skitch will collaborate deeper in the future
. "Not only will we be able to significantly broaden the reach of their product, but we will also greatly improve our own capabilities," Libin said. "The roots of our company are in handwriting recognition, and all that stuff is going into Skitch." Currently, you can share a photo between the apps by just tapping on the Evernote button in the Skitch.
Except for the deal, the value of which remained a secret,
Evernote
shared details about its
yearly progress
. Registered users of the application now stand at 12.5 million, nearly triple the 3.9 million a year ago. Evernote also attracts more users every day with 42,000 being the current number, up from 11,000 last year. The service is free, but there's a premium option and the more a user remains in the Evernote ecosystem, the more likely the customer is to pay for the service.
Download Skitch for Android
[Android Market link]
source:
Evernote