Evernote for iOS gets update to version 5.4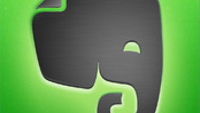 Evernote for iOS
has been updated to version 5.4 and now allows users to mark up documents using
Skitch
directly in the Evernote app. Premium iOS subscribers to Evernote will be able to mark up a PDF document or turn a note into a PDF document. The PDF features will require a premium subscription and will also require you to install the separate Skitch app onto your Apple iPhone or Apple iPad.
Evernote has renamed the feature known as "Favorites"and now calls it "Shortcuts". This sends to a central hub all of the notes, tags, notebooks and searches. The hub is easily accessible from a small tab that can be seen at the bottom of every page of the Evernote app. Documents that the user decides to "star" are sent to Shortcuts and are available for all devices that are associated with an Evernote user's account.
Another new feature shows every newly opened note at the bottom of each open note page allowing users to switch quickly back and forth between notes. Those who paid up for premium service can use the
Related Notes
feature which scans saved content on your Evernote account, looking for notes or web clippings associated with any open note. Support requests can now be made from within the app and with the update, Evernote company announcements now have a new section all to their own.
source:
Evernote
via
AppleInsider