Early Android 4.4 update for T-Mobile Moto X leaks
8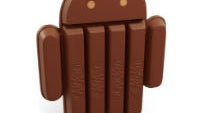 Given the relatively minor changes to Android that are seen on the Motorola Moto X (at least compared to the competition), the general thinking has been that Motorola should be pretty quick with Android system updates. Motorola has
confirmed
that its new device will get the Android 4.4 KitKat upgrade, but hasn't mentioned when that will happen.
Well, the Android 4.4 upgrade for the T-Mobile Moto X has leaked out, but it is a very early build. Still, it shows that Motorola is working hard to follow through on promises to push updates quickly. The firmware popped up on XDA and has even been compiled into a flashable ROM (though we wouldn't suggest doing that just yet.)
The firmware has some of the KitKat improvements that you would expect, like the new version of Hangouts, and the new Google Search app. Oddly, it didn't include the Tap & Pay settings menu item. It also doesn't include the Google Experience launcher, but word has it that Google is keeping that as a
Nexus 5 exclusive
for now. There are also more camera improvements, which should be good news for Moto X users.