Google Experience launcher staying as Nexus 5 exclusive for now
17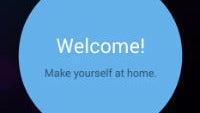 Before the Nexus 5 was released and Android 4.4 announced, we thought that maybe Google was setting up to release the "
Google Experience
launcher" into the Play Store. After the Nexus 5 was released, it looked like the launcher could come as part of the
Google Search
app updates. But, Google has confirmed that at least for now, the Google Experience launcher will stay as a Nexus 5 exclusive.
And, to be clear, Google wasn't saying it would be a Nexus exclusive, but specifically exclusive to the Nexus 5 itself. The idea is that Google wants to give users a reason to upgrade to the new phone and not just wait on the software update to get the feature on an older device. Of course, Google also left the door open, and said that the Google Experience launcher could be brought to the Nexus 4 and could even be released into the Play Store eventually.
Google says that it wants to see how users react to the new launcher before deciding on whether it will be brought to other devices or released into the Play Store. Although it seems from his tone that Google's Matias Duarte expects a bright future for the launcher, because he said it is "the single most exciting thing for Nexus 5". If others feel the same, it's fairly likely that Google will bring it to other devices.