Qualcomm fined $1.2 billion for paying Apple to keep its LTE modems exclusive
19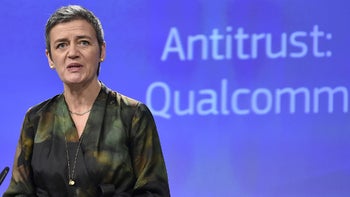 After rumors that the European Commission (EC) may fine Qualcomm $2 billion for paying out Apple to keep using its LTE modems, instead of turning to rivals, today's decision to fine it $1.2 billion was set up to seem like a bargain.
First, a bit of an overview. Apple entered agreements to exclusively use its baseband modems from 2011-2016, with the respective licensing and royalty fees attached, so Qualcomm certainly made out like a bandit on the whole setup. Most of its profit comes from fees on its intellectual property, rather than chip sales, and that is why it has one of the highest margins in the industry, amassing nearly $30 billion in cash and equivalents in the process.
Prior to the exclusivity agreement ending in 2016, however, the folks from Cupertino started
wiggling Intel modems in their iPhones
and iPads, prompting Qualcomm to enter a
legal battle with Apple
. The EC Commissioner Margrethe Vestager also reiterates that "
As it got towards the end of the arrangement with Qualcomm - and as our investigation was going on - Apple did start to use Intel chips,
" denoting a breach of contract on part of Apple in its turn. Thus, while the fine is for clashing with anti-trust regulations, the legal consequences for Apple introducing Intel modems earlier than it signed up for, are still in flux, with the usual claims to potentially
ban iPhone from sales in the US
, and patent
counterclaims by Apple
.

The iPhone X may be the last one to use a Qualcomm LTE modem inside
The European Commission listed several arguments for its decision, chief among which is the practically monopolistic position of Qualcomm on the market of LTE modems in the US, the "
significant amounts paid by Qualcomm in exchange for exclusivity
," and the failure of the company to prove that there were any market efficiencies resulting from the deal with Apple. Commissioner Margrethe Vestager issued the following statement on why did they impose the $1.2 billion fine:
Qualcomm illegally shut out rivals from the market for LTE baseband chipsets for over five years, thereby cementing its market dominance. Qualcomm paid billions of US Dollars to a key customer, Apple, so that it would not buy from rivals. These payments were not just reductions in price – they were made on the condition that Apple would exclusively use Qualcomm's baseband chipsets in all its iPhones and iPads.
This meant that no rival could effectively challenge Qualcomm in this market, no matter how good their products were. Qualcomm's behaviour denied consumers and other companies more choice and innovation – and this in a sector with a huge demand and potential for innovative technologies. This is illegal under EU antitrust rules and why we have taken today's decision.
Apple is rumored to be
working with Intel on a 5G modem
, and will gradually be replacing
all of its LTE chips with Intel and MediaTek ones
, it seems. There are other big players in the market, too, like Samsung, or Huawei. The new
Mate 10 Pro
, for instance, can hit up to 1.2Gbps downloads, more than any other phone at the moment, and with a homebrew LTE modem at that, so Apple certainly has other options. Qualcomm, however, makes the gear that is most compatible with CDMA networks like Verizon's, and
its LTE modems are faster and better than Intel's
, so we'll see how it all pans out, but we wouldn't discount the connectivity chip giant just yet.