Qualcomm is the odd man out as Apple and Intel design 5G modem for future iPhone models?
18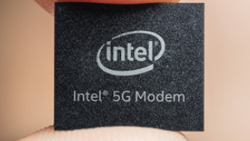 If there is a sign that Apple remains upset with chip maker Qualcomm, it is found in a new report published today that says Apple is working very closely with Intel on the design of a 5G modem chip for future iPhone models. Apple and Qualcomm are tied up in a series of lawsuits related to the latter's handling of royalties on its standard essential patents. Qualcomm
sought to have iPhone sales banned in China
.
From the
Apple iPhone 4s
through the
Apple iPhone 6s
, Qualcomm was the sole provider of modem chips for the iPhone. Last year, Qualcomm provided the key component for the CDMA variant of the
Apple iPhone 7
, while Intel supplied the same part for the GSM versions. And while Qualcomm's modem chip is considered superior to Intel's, last month, there was talk about
Apple dropping Qualcomm for the 2018 iPhone handsets
. Today's report says that Intel and Apple will add the new Intel modem on to a system-on-a-chip that would also include Apple's A-series CPU and other iPhone components. The chipset would be built at an Intel factory.
Intel's XMM 8060 5G modem chip should be offered by the chip maker prior to the expected 2020 launch of 5G service. The company announced today that it has completed a phone call over a 5G network on the 28GHz band. The 5G modem chip used was a prototype of a component that Intel introduced during the Consumer Electronics Show this past January.
source:
FastCompany
via
AppleInsider