E-TEN announced the Glofiish X650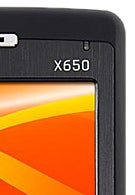 Glofiish X650,
its newest Pocket PC Phone. It's a variant of the
X600
but it has a VGA touch display, FM radio and a FM radio transmitter depending on the region. Other specifications identical with those of the X600 include Windows Mobile for Pocket PCs, 2 megapixel camera, GPS, Bluetooth, USB. The audience targeted is the customers looking for a compact, full-featured device that is also affordable. The X650 will come in black and purple and will be available worldwide in two to three weeks.
source:
E-Ten