Dragon Mobile Assistant by Nuance goes 4.0, includes email dictation, auto Driver Mode and Voice Notifications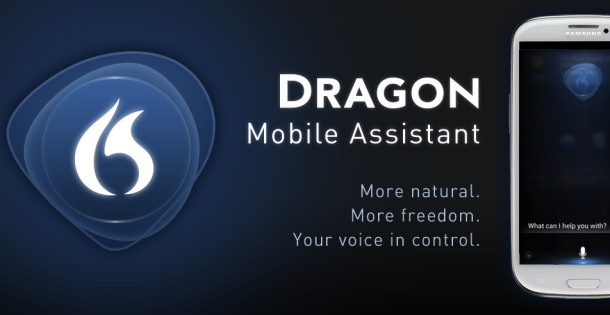 Nuance's awesome
Dragon Mobile Assistant
just got updated to version 4.0, where you can customize the wake-up word. It now includes Voice Notifications that tag along email dictation, as well as text messaging, email, Facebook updates, upcoming appointments and voice call readouts.
The voice-controlled assistant will now automatically recognize when you are moving fast, and will switch to Driver Mode if you have enabled the function. A bunch of bug fixes is also in tow. Unfortunately Dragon is only US for now, but you search for the APK file and sideload it if you want to take it for a spin.
Dragon Mobile Assistant Expands with Intelligent Driver Mode

Automatically Switches to Driver Mode in a Moving Car; Adds Customizable Wake-Up Word and Voice Notifications for Facebook, Texts, Calls and Appointments

Burlington, Mass. – June 18, 2013 – Nuance Communications, Inc. (NASDAQ: NUAN) today announced that its Dragon Mobile Assistant app for Android is updated with new proactive assistant features, including an intelligent hands-free Driver Mode, voice notifications and the ability to customize Dragon's wake-up word.

Dragon already keeps people organized, productive and connected with some of the most unique personal assistant capabilities available, including Friend Finder location sharing, proactive conference call dialing and more. And now, Dragon knows when users are in a moving vehicle and can automatically switch over to hands-free, eyes-free Driver Mode, keeping people connected in a safer, smarter way. Driver Mode leverages Dragon's powerful voice recognition and expressive text to speech to give people full command and control over Dragon without having to take their hands off the wheel to touch the device or take their eyes off the road to look at the screen.

Dragon has new features that also make it an even more personal experience, including Voice Notifications that can read aloud Facebook status updates, messages, incoming calls, and upcoming appointments. And now you can choose how you wake up your Dragon with a customizable wake-up word. So whether it's "Hi Dragon", "Hey Dude," or "Hello Dolly," Dragon is ready to respond and deliver. And last but certainly not least, Dragon now also supports voice-enabled email.

"Dragon aspires to be an incredibly reliable and intuitive mobile personal assistant, not only responding to commands and providing relevant content, but also anticipating people's needs in the moment—just like a true personal assistant," said Michael Thompson, executive vice president and general manager, Nuance Mobile. "Dragon's truly conversational nature and expansive directed search capabilities give people an assistant with purpose, content and information from the content providers they trust the most—leveraging a broad ecosystem without boundaries."

Availability

Dragon leverages Nuance's renowned voice, language understanding, ambient intelligence and expressive text-to-speech to deliver a smarter personal assistant that listens, interprets and delivers a more intuitive and connected experience. Dragon is available for free in English on Google Play in the US, supporting Android 2.3 and above.

To download Dragon, visit: https://play.google.com/store/apps/details?id=com.nuance.balerion.