Results: do you or would you use a tablet for actual work?
17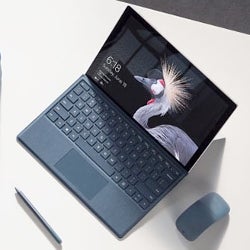 So, with the updates to iOS 11, it seems that Apple is finally gearing up to put the "Pro" in iPad Pro. And yes, while thus far the machine was really powerful, fast, and gorgeous-looking, its issues with multitasking and the barred-off nature of iOS definitely didn't lend towards a good working experience with the tablet. Unless you are a sketch artist who only uses one or two apps, for example, the Pro felt jarring.
But it's not the only tablet out there that's geared towards professionals. Microsoft's Surface Pro is now 5 generations old and it has its fair share of devout followers, albeit in a tight niche. It's a tablet with PC-grade hardware, a full version of Windows 10 on board, and its own set of removable keyboard and active stylus.
And then we have the
Huawei MateBook
,
Samsung Galaxy TabPro S
,
HP Spectre
, and tons more "work tablet" type solutions, covering different power tiers and price ranges. We thought we'd ask you on how you view these hybrid devices when it comes to working machines. Here's how that poll ended up: