Do you like the design of the new Motorola phones? (poll results)
17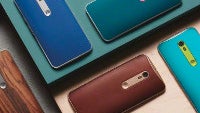 Yesterday, we sought to put an end to an internal argument: Are the new Motorola phones nicely designed? As we mentioned in
our original post
, we had a difference in opinions at the phoneArena offices, with some swearing by the new Moto look, whilst others felt they looked awfully generic, especially when looked at from the front. So we decided to tap our audience and hopefully get a more representative split.
Just shy of 1,800 of you decided to participate and cast their votes within the 24 hours that the poll was open. The majority, and by far the biggest group, align with the Moto fanciers at our team, with 68.17% of voters saying that they like Motorola's design. On the other end of the spectrum, with 9.53%, we have our opposing group, who doesn't at all appreciate Motorola's work in this specific regard. The remaining 22.3% of the votes belong to folks who consider the Moto X Play, Moto G, and Moto X Style to be nothing terrible in terms of design, but nothing special, either.
What do you have to say about this split? Did it surprise you?