Ditto can now be added to your Pokedex in Pokemon Go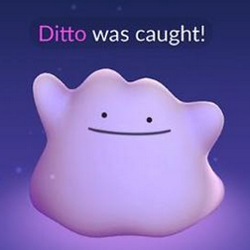 Hey Pokemon Go players, good news. That Chameleon of Pokemon, Ditto, can now be added to your Pokedex. When fighting at the Gym, Ditto turns into the first Pokemon it sees and copies that pocket monster's signature attack moves. This makes it a great Pokemon to own in battles since it won't be outmatched when it fights. If it encounters another Ditto in a battle, you will have to hope that your blob can win using its own cunning and skills.
Because Ditto won't look like a Ditto in the wild, Pokemon Go trainers now have an incentive to catch every measly Pidgey whose path they cross. Who cares that you already own 1,457 Pidgey; the next one you encounter could be a Ditto, so you better not let it go by. Once another trainer is lucky enough to snag a Ditto, it will show up on your screen correctly marked as a Ditto.
Pokemon Go players are
anxiously awaiting the BIG update rumored to be coming December 7th
. 100 new second gen Pokemon will be added along with the ability to hold player vs. player battles and make trades. In addition, the update will add the release of a tier of Legendary Pokemon, and hatching Pokemon eggs will be replaced by the ability to raise Pokemon babies.
PhoneArena is on Instagram
. Follow us to stay updated with fresh news and flashy media from the world of mobile!
source:
TheGuardian