DirectConnect app gives certain Sprint handsets PTT capability; Samsung Transform Ultra to be first
4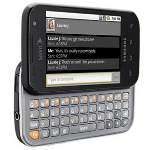 If you are rocking the
Samsung Transform Ultra
for Sprint, next month the phone is really going to transform. According to a leaked screenshot of Sprint documentation, Sprint is planning the return of DirectConnect and the walkie talkie like PTT connectivity that it offers. With an app called DirectConnect Now, you will be able to add Push-to-Talk functionality to certain devices starting with the Samsung Transform Ultra. Need to speak to someone like 30 seconds ago? Just like in the olden days of DirectConnect with Nextel, simply
click on the button and you're instantly in contact
with the person you wanted to reach. The rollout of the service next month coincides with the
launch of International DirectConnect over CDMA
.
The new changes to QChat and the DirectConnect Now app developed from changes to the platform which now allow PTT capabilities without expensive hardware. It was the extra cost that stopped smartphone manufacturers from building PTT into smartphones. Sprint dropped the DirectConnect service in 2009 when the smartphone revolution was just catching on. The DirectConnect Now app can now be ported to other Android devices on Sprint's line u and the QChat platform will work across platforms If enough carriers have an interest in rolling out QChat as an app instead of a dedicated device, we could see PTT offered on
BlackBerry
,
Windows Phone
and even
iOS
.
Some of the features offered by the new DirectConnect will be the ability to
connect to a group of as many as 20 user
s at one time, have 1 to 1 conversations with Nextel DirectConnect members, touchscreen controls, a picture of the person you are talking with from your contact list, and the ability to make group calls on the run. As we said, the first Sprint phone that will support the DirectConnect Now app to make this work is the
Samsung Transform Ultra
with other models to be available afterward. These other models are not necessarily embedded with the hardware or software to run DirectConnect.
Sprint has already launched a trio of Kyocera phones that came with hardware and support for the new DirectConnect right out of the box. The Kyocera DuraMax, Kyocera DuraCore and the
Kyocera DuraPlus came to market with a PTT button
already on each model and do not need to run the DirectConnect app to use the feature. In a bit of irony, the Samsung Transform Ultra, destined to be the first Sprint hone to support the app,
was launched the very same day as the Kyocera DuraCore
.
Sprint's game plan to promote the service and how much it will cost is not yet known. The nation's third largest carrier will soon release specific information on the
new DirectConnect plan
. Hopefully we will know by then exactly which devices will be supporting PTT service. Did you copy us? That's a big 10-4, Good Buddy.
source:
PhoneNews
via
Phandroid