Did you know that the world's most expensive iPhone 6 costs as much as a small island?
61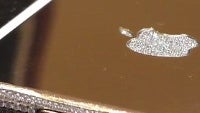 So you think the iPhone 6s is expensive? You've got another thing coming! Ever heard of Goldgenie? GG are England's talented masters of making already expensive smartphones over three times as premium by enriching them with precious metals and jewelry. Basically, they sell phones to Usain Bolt, David Beckham, and P Diddy for a living.
One day, Goldgenie got so busy at work that they ended up producing the most expensive iPhone 6 that we happen to know of. Made of 24-carat gold and encrusted with dozens of diamonds, the prized handset costs as much as $3.51 million. More than a small island, in fact.
Being an exclusive device with a price tag few can afford, the 'Diamond Ecstasy' iPhone 6 can be customised further according to the client's demands. There's a choice between gold, platinum, and the very fashionable rose-gold. You can probably ask for engraving too while you're at it!
More customisation does mean 'more expensive', though. UK-based accessory designer Alexander Amosu isn't affiliated with Goldgenie, but he works in the same trade and once ended up making a custom order gold iPhone 6 covered in no less than 6,127 diamonds, all for the reasonable sum of $2.62 million. Not too shabby!
source:
Daily Mail