Dell Streak 7 Hands-on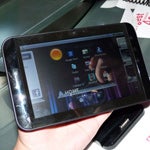 Dell's presence in the wireless industry might soon increase now that it appears that the
Dell Streak 7
is on its way to T-Mobile and more than likely ditching its old sales process. Specifically, the
Dell Streak
with AT&T didn't quite go off quite as planned since you had to primarily rely on ordering the device through them as opposed to carrier stores. Lucky for this Android 2.2 Froyo powered tablet, it just might have the potential to really work well since it's going to be packing support for T-Mobile's HSPA+ network.
Without question, the first thing to come to mind as we checked out the
Dell Streak 7
is its stark resemblance to the original. Naturally, that's essentially what you get when you simply add the "7" to its name as just about every part of this tablet is an exact facsimile. It's not to say that Dell's choice to recycle the design is a bad thing, but it just would've been nice to see some specific design cues that the Dell Streak 7 can call its own. Regardless, we're quite happy with the all glossy plastic construction as it remains fairly suitable. And thanks to its choice of using plastic, it makes the device feel ever so light in the hand as it sizes up at just under one pound. For being a tablet, its overall size is truly appreciated and makes other comparable devices seem a bit more hefty.
Now the "7" clearly dictates that it's packing a
7" WVGA display
that's well protected with its
Gorilla Glass
display. Now even though the resolution might seem skimp to some recent tablet announcements, it's more than usable for its size. Definitely not the sharpest out there, but we can't complain about its general usability in accomplishing a variety of functions. Underneath the hood, the Dell Streak 7 is powered by a 1GHz
dual-core NVIDIA Tegra 2
processor that makes moving around the heavily customized Android 2.2 Froyo experience such a joy. And thanks to Froyo, we find the unique looking Stage UI that Dell has come up with which presents a variety of useful widgets.
Although we love the design of the Dell Streak 7, it's nothing drastically different than the original Streak – aside from its larger display and support for T-Mobile's HSPA+ connectivity. Moreover, Dell's
Stage UI
attempts to make the tablet experience a bit more enjoyable, but it's hard to figure out whether or not we'll see this device get the true tablet operating system in the form of Android 3.0 Honeycomb. Despite that, we're sure that it'll easily complete with the existing
Samsung Galaxy Tab
that T-Mobile has been advertising over the holidays.