Dell Streak 7 Review
6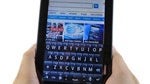 Introduction:
Even though they're still trying to secure carrier partnerships for their products, Dell is no stranger in the Android space especially when it caught us by surprise with the original
Dell Streak
. Luckily for them, they were able to snag T-Mobile's attention and get their latest venture, the
Dell Streak 7
, onto the lineup of the nation's number four wireless carrier. When so many Android tablets require such a high premium cost of ownership, it's utterly refreshing to see that the Dell Streak 7 is priced at $200 with a contract, and more importantly, it's under the $500 threshold at $449.99 no-contract. Sharing some similarities with its 5" sibling, the Dell Streak 7 is fully committing itself into the tablet realm, but does it stand a chance against the competition?
The package contains:
Dell Streak 7
USB cable
Hands-free Headset
Wall Charger
Quick Start Guide
Terms & Conditions
Design:
Instantly, we're quickly reminded on how the Dell Streak 7 closely mimics the design of its slightly smaller 5" variant with its sloped sides, however, it decides to employ this tough plastic shell instead. Still tallying in at a manageable 0.49" thickness, we're happy with the overall size of the tablet, which is quite comfortable to hold with even one hand, but there is a surprising amount of weight with this one. Furthermore, its screen is definitely a magnet for smudges and finger prints, but its plastic casing combined with its criss-cross pattern manages to handle well in keeping everything else looking clean. Taking most of its design cues from the original Dell Streak 5, we still find the implementation to work well with this one – especially for something regarded as a full figured tablet.

Without a doubt, it seems that the Dell Streak 7 is meant to be held in landscape. The 7" display is lagging in terms of quality since it sports a measly
WVGA (800 x 480) resolution
and quickly shows off its weakness when attempting to read out fine text in the web browser. As for color production, it seems natural for the most part when viewing the display at a direct 90 degree angle, but again, it washes out tremendously at extreme angles. But you know, low price means compromise.
Taking advantage of its speedy HSPA+ connection, we find a
1.3-megapixel front facing camera
for video chat and shooting self-portraits perched above its display, while the usual set of Android capacitive buttons are located on the right along the sloped side. Happily, the three buttons are finger friendly in size and we didn't have any trouble pressing them; nor did we run into any problems accidentally hitting them.
Hidden beneath a wide plastic flap on the
right edge
of the tablet, both the SIM and standard sized SD card slots are safely tucked away to keep dirt and debris from messing with its innards. Also, the Dell Streak 7 utilizes two speakers which are located oppositely from one another
on both edges
. Placed rather in an unfamiliar location, the 3.5mm headset jack is the only other protrusion found on the
left side
of the tablet.
Meanwhile, the rigid feeling volume rocker and dedicated power button are sitting close-by next to one another on the
top edge
, and in fact, they exhibit a sensible response when pressed. If it were a smartphone, we would be appalled to find a proprietary charging/data connection port, but since this is a tablet we're talking about, the one on the Dell Streak 7 doesn't come as a surprise.
Finally, the only thing we see on the
back
is nothing more than the 5-megapixel auto-focus camera and LED flash. Unlike the original Dell Streak, we're locked out completely from accessing anything internally with this one since it utilizes a non-removable battery.