Dell Streak 10 Pro is captured on film alongside with its siblings
2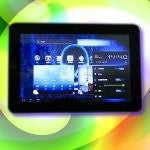 Up until now, we've been unable to find an actual photo of the
Dell Streak 10 Pro
in the wild, but nevertheless, we're finally presented with one that shows off its size compared to its siblings.
Yesterday, we reported that the forthcoming Android Honeycomb tablet is
rumored to be launching in China as soon as this week
, but its availability in other markets will solely depend on its success over in the Chinese market. Lucky for us all, we're finally able to see the 10-inch tablet in the flesh as it's posing for the camera alongside the Dell Streak 5 and 7 tablets.
Obviously, it looks like your conventional Honeycomb tablet, but interestingly enough, the photo shows the
Dell Streak 7 running Honeycomb
as well. Meaning, we might potentially see an update some time in the future that would upgrade the existing Froyo filled tablet and bring it up to a more modernized figure with Honeycomb on board.
Now that we have a clear idea of what the Dell Streak 10 Pro looks like, the only thing left to complete the puzzle is an official confirmation of its existence, pricing, and availability. Any takers on this one?
via
Unwired View