Deal: dual-SIM Samsung Galaxy S7 priced at $559.99
5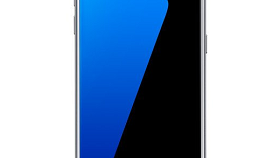 The
Samsung Galaxy S7
is currently priced at just under $700 if you purchase it directly from the major carriers in the US. On Amazon, the international variant retails for about $580, but it turns out that you can get the same handset for even less thanks to a special Daily Steals promotion.

The retailer has the international dual-SIM flavor of the Samsung Galaxy S7 available at just $559.99. Unlike most Amazon listings, this deal is for a smartphone with 12 months of warranty. The handset is available in Black, Gold, or Silver. Since this is a GSM version of the Galaxy S7, it will work just fine with carriers such as AT&T or T-Mobile, but it won't be of any good to Verizon and Sprint subscribers.

Compared to the official North American version of the Samsung Galaxy S7, the international version of the phone switches the Qualcomm Snapdragon 820 chipset for Samsung's own Exynos 8890 chip. The two chips are in the same league, although some tests show that the Exynos 8890 is slightly faster and more battery efficient than the Snapdragon 820. Furthermore, this deal is for a handset with dual-SIM capabilities, which could be of great use for those rocking both a personal and a business number.
On the downside, the international Samsung Galaxy S7 and Galaxy S7 edge variants do not come with support for Samsung Pay out of the box.

Everything else stays the same between the international and the US variants of the phone. You get the same 5.1-inch Super AMOLED display running at a resolution of 1440 by 2560 pixels, 4GB of RAM, 32GB of expandable integrated storage space, a 3,000mAh battery, a 12MP primary sensor that's a proven competitor in our blind camera tests, and a 5MP shooter on the front. On the software side, the Galaxy S7 currently runs Android 6.0 Marshmallow.
If you're tempted, note that this deal will expire in three days.