Deal alert: refurbished 4th gen iPad with Verizon LTE priced at $499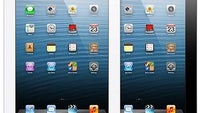 Several days ago, the first batch of
refurbished 4th generation iPad tablets hit the Apple store
priced at about 10% below their original retail price. And soon after, the entire stock was depleted, meaning that folks who didn't act fast missed their chance of getting an iPad on the cheap. Or did they?
Well, not necessarily as now there's one more retailer offering refurbished iPad units. The 4th generation iPad is today's special at Daily Steals - the variant with 4G LTE for Verizon and 16GB of storage, to be more specific. If that's the model you're looking for, it can be yours for $499, which is $131 less than the device's retail cost. Not too bad of a deal, right?
Although the iPad tablets being sold today at Daily Steals are all refurbished, they still come with a 6 month warranty and a complete set of original accessories, namely a wall charger and USB Lightning cable. Also, keep in mind that while the tablet's 4G LTE radio works only on Verizon's network, you're free to pop in an AT&T Micro SIM card and use the carrier's 3G network. T-Mobile SIMs should work as well, but will be limited to 2G connectivity. For more details, just follow the link to Daily Steals below!