Refurbished iPad mini, 4th generation iPad now available from Apple online
11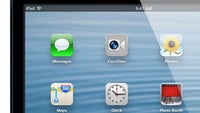 In Android world, a $50 discount on a given device, be it a smartphone or a tablet, isn't that big of a deal. We see it happen all the time (and Amazon is often involved). Yet when it comes to Apple products, their prices remain pretty much constant right until the day a new batch of gadgets is released. That's when the older generation gets discounted, but that's also when the devices being replaced lose a huge fraction of their cool.
However, there's a way of getting a current generation Apple gizmo at a discount - just browse through the Apple Store's refurbished section! And today we're happy to announce that refurbished models of the iPad mini and 4th generation iPad are also available. One can grab a 32GB Wi-Fi-only iPad mini for $389, which is $40 off its regular price. A full-sized, 4th gen iPad with Wi-Fi and 16GB of storage can be bought for $449 - a $50 discount. Need cellular connectivity? Well, then there's a 16GB iPad mini for Verizon priced at $429 and a 4th gen iPad with Verizon LTE support costs $579.
More deals on refurbished iPads are available at the Apple store online so check it out in case you're interested by following the link below.