Deal: act today and get the beautiful Huawei Watch at up to $120 off from Amazon
0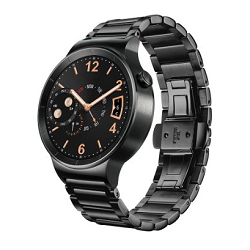 The original
Huawei Watch
, which landed in the US back in late September, has made its way in some promotions as months passed, but the price of the watch itself mostly remained constant. Today, however, Amazon is selling multiple versions of the original Huawei Watch at hefty discounts.
The cheapest Huawei Watch variant is the silver stainless steel model with a leather strap. Amazon has this model currently available at $269.99, down from the usual price of $349.
The same silver body is offered with stainless steel link band at $279.99 ($120 off the usual price) and with a steel mesh bracelet at $314.99 ($85 off).

Moving up the price range, the black version of the Huawei Watch with a black link band is priced at $319.99 ($130 off) while the gold-plated watch with a brown leather band will set you back $589.99, or $110 lower than the usual price.
Unlike most other smartwatches currently available on the market, the Huawei Watch was designed to look like a traditional watch. The Huawei Watch ticks all the boxes of a traditional analog watch, such as a round face, standard lugs, as well as physical crown in the "2 o'clock" position. The display is a 1.4-inch round AMOLED panel running at 400 by 400 pixels, the most pixel-dense panel currently available on any smartwatch.
On the inside, the device comes with what appears to be the standard Android Wear platform: a Qualcomm Snapdragon 400 chipset with a 1.2GHz quad-core CPU, 512MB of RAM, 4GB of internal storage space, water and dust resistance, a heart rate monitor, Wi-Fi, and Bluetooth. For a closer look at the time piece, make sure to check out our
Huawei Watch review
.
If you haven't decided yet on purchasing Huawei's first smartwatch, don't worry, once Huawei gets around to launching the updated
Huawei Watch Elegant and Jewel
variations of the device, the price of the original model is likely to go down. Back in early January at CES 2016 where
Huawei announced the Elegant and the Jewel
models, the company said says that the new variations are scheduled to launch at some point during the first quarter.