Huawei Watch Review
27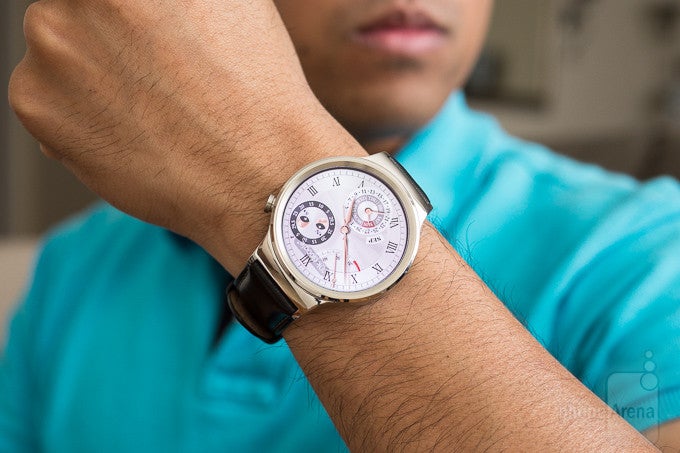 Introduction
It's fall, so that means it's Android Wear season. The summer came and went, without any notable new offerings in the Android Wear space, so it's somewhat refreshing to come across one again. Even though it took quite a bit of time to come to market, especially when it was first introduced way back in March during MWC 2015, the Huawei Watch is the first of many smartwatches to come out this fall season in hopes of winning that precious real estate on your wrist.
The package contains:
Huawei Watch
Proprietary magnetic charging cradle
Wall charger
Get started guide
Safety information
Design
The Huawei Watch has a premium design of proportionate size.
There's no denying that the Huawei Watch exudes a design style that's akin to a classical timepiece, evident by its 316L cold-forged stainless steel chassis, 42mm diameter, standard lugs, leather strap, and round face style. If you're all about looking sophisticated, the Huawei Watch makes for a logical complement with its premium design.
On our wrist, the 42mm diameter seems like a good size – not appearing too over- or undersized. As for the leather strap, it's a good stock option, as it complements the Huawei Watch's premium style. However, there are other options for the chassis and strap that can exemplify its premium nature even more. For example, there are the black stainless steel and 22K rose gold plated stainless steel case options to choose from – while the strap options consist of a black stainless steel link band, steel mesh band, or a matching 22K rose gold link one.
Much like other Android Wear smartwatches we've come across, there's a single button on its side that's used to act as the home/on/off function when it's pressed down once. Alternatively, we can turn off the screen or place it into suspend mode by merely covering the display with our palm. On the underside, there's a heart rate sensor to measure our pulse – while pin connectors nearby are used to work with the included magnetic charging pad. The problem with the charging pad is that it's a single piece, which means that if the wire somehow goes bad, you'll need to replace the entire thing.
And finally, you can sleep easy knowing that it's IP67 certified to withstand submersion under 1 meter of water for up to 30 minutes.
Display
No complaints here whatsoever, it hits all the good spots.
So far, Huawei has been enjoying the jabs it's been taking at Motorola for offering a smartwatch with a REAL circular display. There's certainly no flat tire with this one, as it sports a 1.4-inch 400 x 400 full circle AMOLED display with sapphire crystal protecting it. As you can imagine, details are crisp and distinct with its 404 ppi pixel density. And since this is AMOLED we're dealing with, we especially like its wide viewing angles, punchy color tones, potent glow under low light, and how it achieves that perfect black color.
Lacking an ambient light sensor, which is why Motorola opts to have a flat tire look with its smart watches, it means that there's no automatic brightness adjustment with the Huawei Watch. For us, the middle "3" setting is ideal enough, but it still poses some challenges with outdoor visibility – so you'll want to crank it up to the max, while also using a watch face that relies on a white background color.
Under dim settings, though, its suspend mode does a nice job of achieving enough contrast to allow us to tell the time without being too straining to the eye. And lastly, the display is recessed so that it doesn't come in contact with surfaces in the event it's accidentally placed face down for some unknown reason.
Although it's easy to say that it's a beautiful looking display, which it is, we've seen other displays that offer more intrigue – like the LG G Watch R's P-OLED display. Nevertheless, Huawei does nicely with its panel because of its strong details and all of the rich qualities of AMOLED technology.