Huawei Watch Elegant and Jewel editions: hands-on
0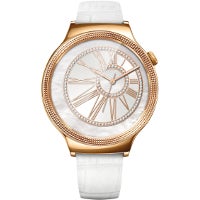 Today, Huawei announced
two new variants
for its
Huawei Watch
smartwatch line – the Jewel Edition and Elegant Edition. Both versions are designed for thinner bands, catering towards smaller, gentler arms. The Jewel is encrusted with Swarovski crystals, while the Elegant simply has a pattern decoration etch on top of it.
So, we had some time with the two devices and we took a few photos for you guys to look at. We have to say, Huawei definitely brought the bling to smartwatch design. As far as actual functionality goes – nothing is different from the "regular" Huawei Watch that has been thus far available. The devices run on the Android Wear platform, which is compatible with both Android 4.3 and above, and iOS 8.2 and above. The Watch has a Snapdragon 400, 512 MB RAM, 4 GB internal memory, and a 300 mAh battery.
Operation is pretty common – Android Wear makes the most out of swipe gestures on the actual screen – a downwards swipe drops the quick settings shade, a left swipe calls out the app drawer, and a swipe upwards cycles through notifications. The little crown-like button you see on the pictures is not an actual crown – you can't use it for scrolling, it's just a sleep / on / off button. So, these shiny new models are certainly destined to get some finger smudges on their glass. C'est la vie!