Samsung Galaxy Tab S 8.4 Review
40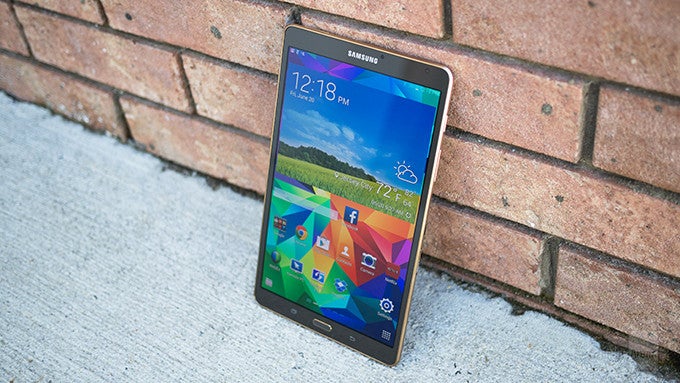 Introduction
The
iPad mini
, it has ceremoniously become the item to beat in the compact sized tablet segment. Hard to imagine it, especially when there are several players in the space vying for supremacy, the only other company that's able to contend with Apple's ferocity is Samsung – who happens to have that more-is-better approach to things. Aiming to shine even brighter, Sammy is going back to its roots by blessing the
Galaxy Tab S 8.4
with a drool worthy looking Super AMOLED display. Naturally, it's been a while since we've seen something graced with this particular display technology, but will it be enough to entice hungry consumers who are looking for the next big thing?
The package contains:
Wall charger
microUSB cable
Get Started Guides
Design
Impressive for pushing the boundaries further with its streamlined construction, it's still lacking that premium element with its plastic housing.
Borrowing the same design language introduced by the
Galaxy S5
, the Galaxy Tab S 8.4's design is a familiar one due to the dimpled pattern of its plastic body. Remarkably, they're able to reduce the size of the tablet, enabling it to reach an impressive thinness of 0.26-inches (6.6 mm) – besting the 0.28-inch (7.2mm) construction of its previous effort with the
Galaxy Tab Pro 8.4
, as well as the iPad mini with retina display. More than comfortable to hold for reading or play, we only would've liked to see more premium materials used with its construction, which has been the constant theme with Sammy's portfolio at this point. Call it wishful thinking on our part, but that's the one single element that would've solidified its design. Our review unit is bronze-colored, adorned with a contrasting gold bezel around the outer edge of the tablet.
The tablet is obviously designed for portrait orientation operation – more so when its front-facing camera, two capacitive Android buttons, and home button are laid out similar to a smartphone. Diving more with the latter feature, Sammy has integrated its finger print sensor into the home button, allowing for an additional form of security for unlocking the tablet and making mobile payments. Operating in similar fashion to the Galaxy S5's finger print sensor, we're sometimes finding ourselves swiping slowly on multiple occasions for it to properly register. Rounding things out, there's an 8-megapixel auto-focus camera with LED flash perched in the rear of the tablet.
Display
Super AMOLED in a tablet!
It's been a long time since we've seen a Super AMOLED screen in a tablet, but boy does it make a comeback big time with the Samsung Galaxy Tab S 8.4! Elegant and mesmerizing, the 8.4-inch 1600 x 2560 Super AMOLED display shines ever so beautifully to capture our attention both near and far. Sure, the resolution isn't necessarily a new high point for Sammy, seeing that it has been established previously with the Galaxy Tab Pro 8.4 already, but we appreciate that it continues to produce stunning clarity and detail with its 359 ppi pixel density count.
Naturally, the star of the show here is the Super AMOLED technology. On one hand, some folks might bash it for the oversaturated, inaccurate colors it produces, but many would love it for that same fact. This time around, however, Sammy provides three viewing modes with the display – AMOLED cinema, AMOLED photo, and basic, resulting in really different color reproduction. We have to say we are pleasantly surprised by the "basic" display mode, which enables the screen to produce almost spot-on accurate colors – something that no AMOLED screen has done to date, including those of the Note 3 and Galaxy S5, whose color reproduction remains far off from the accurate visuals found with the Basic mode of the Tab S series. Both color temperature (6750 K) and Delta E values (2.74 in grayscale and 2.57 in rgbcmy) are remarkably close to their reference levels. Good job, Sammy! Meanwhile, the adaptive display option is supposed to optimize the screen's color range, saturation, and sharpness to deliver more eye-catchy visuals, depending on the content that's being displayed.We are happy with the impeccable viewing angles and potent brightness output (419 nits), allowing the display to come to life and prove to be versatile in a variety of conditions. In fact, we'd go as far as to say that it's one of the best displays on a tablet to date!
Display measurements and quality