Deal: Motorola's Moto 360 smartwatch drops down to just $149.99
34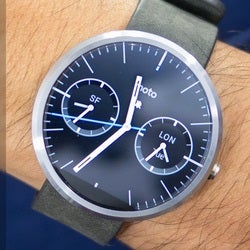 With several new entries to the smartwatch arena over the past couple of months, some of the market's older models are lowering their prices. Yesterday, we told of how the first-gen
Asus ZenWatch
had
dropped its price below $150
for the first time, and now
Motorola's Moto 360
has followed suit with a similar, albeit limited offer. It's worth adding that this isn't the first time that the 360 has fallen in price, but if you are in the market for a smartwatch running on Android Wear, you may want to take advantage of this limited-time offer.
When we say limited, we certainly mean it. At the time of writing, the Moto 360 can be had over at Woot for $149.99, but it will expire in ten hours' time or when the stock has sold out completely – whichever comes first. Thus, you must move quickly if you want to snag a bargain, especially since it could be a while before this model is seen at such an enticing price again.
The Moto 360 includes a rounded, 1.56-inch 320 x 290 LCD display, which is shielded by Corning's Gorilla Glass 3. It also offers wireless charging, and while the premium finish will turn heads, it has the brawn to match its beauty thanks to the IP67 rating.
It should be noted that if you're after one of the variants with the metallic band, the price hikes to $179.99. But it's still a saving, and if you want a smartwatch that knows how to be stylish, you can snap the Moto 360 up at the source.