The first-gen Asus ZenWatch can now be snapped up for just $149.99
3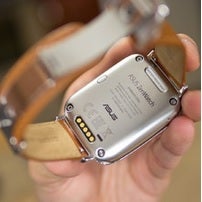 With the
ZenWatch 2
having recently been unveiled, Asus' first
ZenWatch
is probably en route to the tech scrapheap, but not without one last hurrah. The wearable can currently be purchased for just under $150, which is the lowest price it has been since it first launched last year. The fact that it was one-upped by the
ZenWatch 2 at Computex
means that the discount isn't quite as eye-opening as it might have been a month or two ago. But still, if you're looking for a cheap wrist computer with a dose of traditional wristwatch charm, you might want to take advantage of this saving.
At $149.99, the Asus ZenWatch boasts a 1.63-inch AMOLED display, Qualcomm's Snapdragon 400 processor clocked at 1.2 GHz, and runs on Google's Android Wear software. With a premium finish that we appreciated back
when we first reviewed the device
, the $200 price tag was also atop our list of plus points. Now, it's even cheaper.
Android Wear devices aren't too dissimilar from one another since their general functionality relies heavily upon the software. The ZenWatch 2 offers a new magnetic charging system, better shielding against the elements with an IP67 rating, and a new crown that offers unspecified functionality. But at face value, it's largely unchanged from the original model, running seemingly identical under-the-hood specs. As such, you're probably not losing out on too much if you do opt for the older variant at $150.
You can grab the Asus ZenWatch at its new price point through Amazon and Best Buy at the source.