Motorola Moto 360 Review
49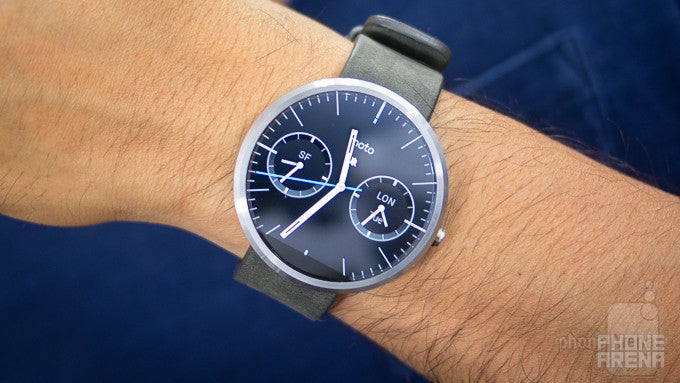 Introduction
Motorola has been fighting an uphill battle for some time now, that's just the reality of things. In today's bustling smartphone industry, one that's being shaped by the bigger, more renowned players like Apple and Samsung, we have forgotten how Motorola played its part to shape Android's success in the space. Heck, it was only a few years ago when the Motorola DROID launched to much acclaim – putting the spotlight once again towards the company.
In recent years, however, its light has been dimmed ever so slowly due to the fierce nature of the business. Let's be frank here folks, Motorola might not have the same level of authority as it once did back in the early 2000s, but that certainly doesn't mean that they can't come out with something innovative. Look further back than the Motorola DROID, the company was able to deliver the iconic, original Motorola RAZR.
Fast forward to the present, smartwatches have popped into our culture – giving us yet another budding segment that's expected to see substantial growth over the next couple of years. Taking the bull by the horn, the Motorola Moto 360 was the talk of the town when it was unveiled back in Google I/O, easily garnering adulation from attendees – despite the fact it was going to launch well after its esteemed rivals in the Samsung Gear Live and LG G Watch. Well, the time has come for the Moto 360. With all the hype surrounding it, we're itching to find out whether the wait is worth it!
The package contains:
Wall charger
Charging dock
Quick start guides
Design
The Moto 360 makes it hip to be circular, making it THE smartwatch we don't mind resting on our wrist.
Until now, all of the popular smartwatches have been square in shape. Samsung's line of smartwatches has been squarish for the most part, although, new models like the Gear Live are cut accordingly to contour the wrist more comfortably. Meanwhile, the LG G Watch is simply an ugly duckling with its cheap plastic casing and far-from-ergonomic design. Fortunately, for all of us, Motorola is finally the one to deliver a smartwatch design we don't mind wearing and showing off!
Huey Lewis and the news argued longingly that it's "hip to be square" in the band's memorable song from the 80s, but in today's smartwatch space, the Moto 360 makes it hip to be circular. In comparison to the design styles of its rivals, the Moto 360 amazes us with its iconic, industrial design – one that's sturdy and luxurious from head-to-toe. Come to think about it, the design looks more like a traditional timepiece, as opposed to a tech gadget.
Staring at the thing, our eyes are just instantly affixed to its beautiful design. Elegant, luxurious, iconic, and hip are words that intimately describe the Moto 360's immaculate industrial design. Sheesh, there's no arguing that Motorola employs some awesome engineers, those who take pride and joy in their work! Impressively, everything came together perfectly with this gorgeous looking timepiece.
Right away, we're locked into its round display, which is undeniably its standout feature, but before we get into the details regarding that, let's take a look at some of the design's qualities. First and foremost, the bezel is constructed from high-quality stainless steel, which not only houses its internal electronic components, but acts to protect it as well. Thankfully, the case has an IP67 certification, making it water resistant in up to 1 meter of water for up to 30 minutes. Washing our hands, jumping into the shower, or using it in the rain doesn't faze the Moto 360 – so that's one less thing we have to worry about with this smartwatch.
Secondly, our particular review unit comes with a dark grey colored Gray Horween leather band – another company that's based out of Chicago, just like Motorola Mobility. Certainly, it has more of an appealing quality versus the plastic bands we see from other smartwatches, but Motorola will offer matching metal bands down the road to those who prefer to keep the look uniform. Strapping it on, we can't complain about its fit and comfort. Being adjustable, it's able to properly sit snuggly on our wrist. At first glance, it might look like the band isn't replaceable, but Motorola assures us that it is. In fact, it uses a 22mm strap, but replacing it will require some extra work on your part.
Of course, the Moto 360's size can become a nuisance to those with smaller hands. Most men will find its size to be ample, but for females, it proves too much of a distraction. It's simply too big for some of them! Despite that, we have to applaud Motorola for its efforts, mainly because this is one of the best designed gadgets we've seen in recent memory!
For those of you wondering, there's a single button towards the right edge of the Moto 360. Pressing on it once will turn on the display, while long-pressing gets us into the settings menu – where we can adjust its brightness, change the watch face, turn it off, and much more. Around the backside, there's a heart rate sensor that glows in a subtle green color to measure our pulse (more on that later). Best of all, there's no charging port with the Moto 360, as it opts to utilize a discrete wireless charging system instead.
Display
Armed with an eye-caching round display, it's absolutely unique and classy. Still, we wish its resolution was just a smidgen higher.
A first of its kind, the Moto 360 is the first watch powered by Android Wear to feature a round display. Specifically, it's a 1.56-inch 320 x 290 (205 ppi) LCD display with Gorilla Glass 3 that we're presented with – and boy does it impress and astound! Technically, it's not larger or higher resolution than the displays in the Samsung Gear Live or LG G Watch, but nevertheless, we're most intrigued by its round nature.
Favoring a round display, it gives the Moto 360 a look that's more akin to your traditional, high-end timepiece. However, upon closer inspection, it's not completely using the entire real estate, as a small strip towards the bottom is unused – giving it that "flat tire" appearance. Yes, it slightly breaks up the display's uniformity, but we're not too distracted by this. Instead, our attention is merely diverted to the display's high-quality performance.
Using good old LCD technology, we're better able to view the screen outdoors, where the sun's presence can become a distraction. Unlike the AMOLED screen of the Samsung Gear Live, the Moto 360's round LCD display is still visible under the harsh conditions – further aided by its decent viewing angles. Colors, too, are represented nicely, as it produces tones that are vibrant and lively. Interestingly, there's an ambient light sensor in the Moto 360, enabling the display to adjust its brightness automatically to adapt to the conditions. That's something that the aforementioned smartwatches lack.
In terms of details, its pixel density count of 205 ppi is behind that of the LG G Watch and Samsung Gear Live, but it still proves effective enough to make out things on the round display without a whole lot of squinting. When it comes to telling the time, it gets the job done in that regard, but upon closer inspection, we can make out some pixels. Even though we're content by the details it produces, a part of us wishes the resolution to be just a smidgen higher – to solidify its stature over the competition.
Tapping and swiping on the screen with our fingers accumulates a fair amount of smudges and fingerprints, but we're able to remove them easily with a quick wipe from our shirt. Thanks to Gorilla Glass 3, we're not too concerned about this one getting scratched, but at the same time, it helps to give the screen a very smooth touch. Still, when it's turned off, the pitch black look of the screen is equally able to attract attention – due to its stone polished look.
Recommended Stories