Deal: Bose QuietComfort 25 Noise Canceling headphones are nearly 50% off on Amazon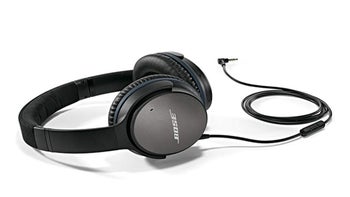 Bose finished its
Black Friday sale
and recently kicked off a Cyber Monday promotion, which includes deals on several headphones. However, there are places where you can buy the company's headphones much cheaper than you would get them directly from Bose's online store.
Take Amazon for example, which is now
selling the Bose QuietComfort 25 Noise Canceling headphones
for just $110. That's exactly $105 off the MSRP, a price that will be available for the next 8 hours or so.
Keep in mind that the price is only available for the headphones that work on Android smartphones, not the version that can be paired with Apple devices. If you're content with that, you have 8 more hours to decide whether or not to buy them.
For a bit more than $100,
Bose QuietComfort 25 headphones
are a great bang for the buck. Also, they come in just one color – black, and can be used wirelessly if you buy an additional airMod adapter ($58) that's been custom designed for the Bose QC25 model.