Deal: Asus ZenFone AR 6GB/8GB RAM on sale for $200 off on Amazon
3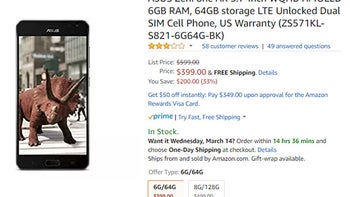 Asus ZenFone AR
is kind of a unique device, but not necessarily in a good way. Even though it was beefed up with top-tier hardware, it remains an expensive smartphone unless you manage to score a deal.
World's first smartphone with Tango and
Daydream from Google
, the
ZenFone AR
is equipped with the innovative TriCam system that features three rear-facing cameras:
motion
tracking, depth sensing, and high-resolution 23MP camera.
The TriCam system should allow the smartphone to create a 3D model of its surroundings and track its motion. Also, the motion tracking camera allows the
Asus ZenFone AR
to track its location as it moves through various areas.
The rest of the phone's specs were pretty impressive at the time of its launch, but not anymore. It's powered by a
Qualcomm Snapdragon 821
CPU, paired with either 6GB or 8GB RAM, as well as 64GB or 128GB internal memory.
Those of you who think the
Asus ZenFone AR
is perfect for your needs, you can get it for $200 off on Amazon. The 6GB/64GB model is on sale for $400, while the 8GB/128GB costs just $500.
Asus ZenFone AR