Deal: Amazon is currently selling a new Pebble Time Round for as low as $109.99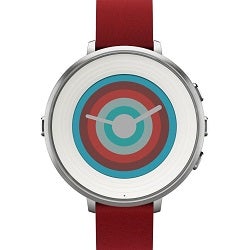 If you've been keeping up with the news today, you'll know that it's proven to be a heck of a day for scoring some solid tech deals. We've seen the
Jaybird X2
wireless headphones get slashed to just $79.99, the AT&T Microsoft
Lumia 640 XL
get its price decreased to a low $99, and in the latest deal of the day,
Amazon
is offering a brand-new Pebble Time Round for as low as $109.99!
The Pebble Time Round comes in two band variants - 20mm and 14mm - and the model that's selling for $109.99 is the latter of those two options. It comes with a silver casing, white front, and red leather band. It certainly is an eye-catching combo, but if you're looking for something a tad bit different, you can also pick up a 20mm version with a silver casing and slightly different white front for $134.43. The Time Round retails for $199.99, and unlike that
open-box Time Round deal
we showed off a couple days ago, the ones being offered here on Amazon are brand-spanking new.
I own a Pebble Time Round myself, and although you can certainly make the argument that it's a lot less powerful and feature-rich than the
Apple Watch
and competing Android Wear-powered devices, I actually prefer the simplicity and ease-of-use that the Pebble line features. The first smartwatch I ever owned was the original Pebble, and the Time Round is a great evolution of what Pebble started more than 4 years ago.
The Time Round is a great evolution of what Pebble started more than 4 years ago
The e-paper display on the Time Round makes it incredibly easy to read when outside, the user interface is extremely well-organized, and the width of just 7.5mm makes it the thinnest smartwatch you can currently buy. It does lack a heart-rate sensor, GPS, and NFC, but if all you want is something that excels at delivering you notifications in a pretty attractive casing, this is a great deal to hop on before it's gone.