Deal: Jaybird X2 wireless headphones are on sale for just $79.99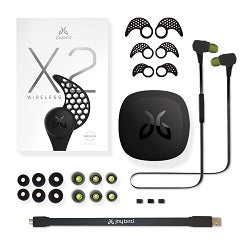 The year of 2016 has proven to be a huge one for the world of mobile technology. Some people will remember it as the year that Google replaced the Nexus brand with the
Pixel
one, some will think back on it as the year of the explosive Note 7, and others will recall it for the official death of the headphone jack. Some of the biggest omissions of the 3.5mm headphone jack include the Lenovo Moto Z and the Apple
iPhone 7
, and this is a trend that we're expecting to see for a lot of the flagships that come out in 2017 and beyond.
While you can certainly use adapters to use you old pair of wired headphones with these newer handsets, the most popular move for a lot of people is to make the switch to Bluetooth headphones. I've been a user of
wireless headphones
myself for quite some time now, and once you make switch to wireless, you won't ever want to go back to messing with a bunch of tangled cords. So, if you happen to be in the market for a new pair of Bluetooth headphones and aren't sure what to get, you'll definitely want to check out the latest deal that's available for the Jaybird X2.
The Jaybird X2 is one of the best options out there right now when it comes to wireless headphones, and although these are technically
earbuds
, the sound quality that they're able to kick out in such a small package is truly incredible. The X2 comes with a host of different buds and wings to help you get just the right fit in your ear, and as an owner of the original Jarbird BlueBuds X, I can vouch for the amount of care that Jaybird puts into their products.
Both Best Buy and Target are currently offering the Jaybird X2 for just $79.99, so you're looking at a savings of $100 off of the price that most retailers sell these headphones for. That's a huge price cut, and being able to snatch such a high-end pair of Bluetooth headphones for less than $100 really is a steal.