Amazon Echo Show 8 smart display gets a sweet discount ahead of Black Friday
We may earn a commission if you make a purchase from the links on this page.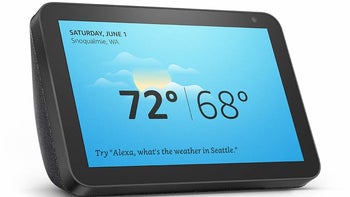 Amazon
introduced its smart display not long ago
, but the Echo Show 8 hasn't been released on the market yet. The big device isn't expensive at all at $130, but it looks like Amazon really wants you to buy one before it launches just one day before Black Friday.
The Echo Show 8 is now $30 cheaper thanks to a 23% discount offered by Amazon to all customers who pre-order the smart display. We have no idea how long the deal will last, so if you've been waiting for the Echo Show 8 to hit shelves, maybe now would be a good time to place an order.
Powered by Alexa, the Echo Show 8, just as the name suggests, sports a large 8-inch HD display, which pairs nicely with stereo sound. Thanks to the screen, users can connect with video calling and messaging.
The smart display features voice control support for compatible devices in your home so that you can manage your connected devices like security cameras, control lights, and thermostats. As an optional feature, the Amazon Echo Show 8 allows you to disconnect the microphones and camera with one press of a button.
Keep in mind that if you decide to pre-order the Echo Show 8, the smart display won't be released until November 21. Also, some orders might ship after the release date.