Dead Space arrives for the BlackBerry PlayBook
2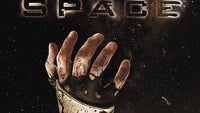 One of the horror titles with most engaging atmosphere, Dead Space, has arrived for owner of RIM's BlackBerry PlayBook. We can personally attest how addictive the game's army of Necromorphs, eery soundtrack and all-around desperation are.
Running around the huge mining ship Ishimura and chopping mutants or using your telekinetic abilities is a joy of a passtime, which PlayBook tablet owners will have the ability to experience first-hand now. Here's the official description of the game:
"
This stunning vision of the Dead Space franchise reproduces the cinematic horror of the console game with rich effects and atmospheric lighting. Experience the hardcore gameplay as you struggle to survive the Necromorph onslaught in 6 varied environments. Access the Plasma Saw and Core Extractor, plus 3 more weapons from the Dead Space universe – then get on with the business of strategic dismemberment!
"
We can only agree with the last phrase - Dead Space is $9.99 in BlackBerry App World, while early reviews say that the graphics look great, and the game doesn't lag, so the money should be well spent for playing on your PlayBook.
via
CrackBerry