DeX station for Samsung Galaxy S8 lands in Canada, costs more than in the US
6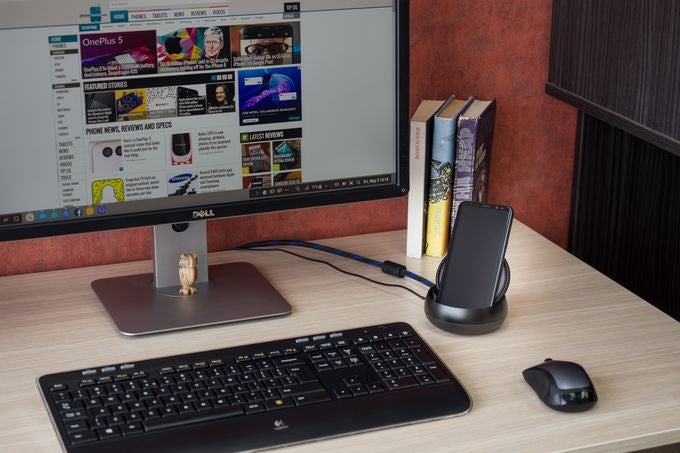 Would you pay 150 bucks for a gadget that can turn your brand-new, fancy smartphone into a desktop computer? Maybe if you are a business professional seeking ultimate mobility and you want to have all the office productivity you need in a single device, you might find that price appealing. Well, this is how much you pay for the Samsung's DeX accessory in the US, if you want to make your
Galaxy S8
or
Galaxy S8+
transform this way. According to information from Samsung Canada coming via Mobile Syrup, today, May 26th, the country over the north border is joining the markets where the DeX station is officially sold, but the folks in Canada will have to pay a bit more – $249 CAD, or about 186 US dollars – to do the same.
As you probably remember, the DeX station is an accessory aimed to give Samsung's latest flagship smartphones a productivity boost by making them usable with an external monitor, keyboard and mouse. To fulfill that purpose, the compact, puck-shaped DeX supports Bluetooth and comes equipped with an HDMI port, an Ethernet port, two USB ports, a USB Type-C connector for fast charging, and a built-in fan to keep the smartphone cool while docked. The Galaxy S8's dock station also makes use of the phone's custom Android user interface, additional apps, and a full-fledged browser with tabs.
In terms of performance, the Galaxy S8 and the Galaxy S8+ are powerful enough to handle Microsoft's suite of mobile office apps preloaded on them, but it is debatable whether the DeX station is truly capable of enabling a PC-like experience at a level that is sufficient to justify its price. As our
recent review
reveals, the accessory proves to be a good solution for web browsing, email, writing, and other everyday tasks, but it is still lacking some important things like, for example, broad third-party app support and proper multitasking, which are features that could boost the practicality of the device. On the other hand, out of all smartphone-turned-PC solutions that have ever launched – the
Microsoft Continuum
and Motorola's
Lapdock
, for instance – Samsung's approach appears to be the most successful so far.
source:
Mobile Syrup