Check out these first images of the Sony Xperia Z Ultra GPe running on Android 5.0 Lollipop
7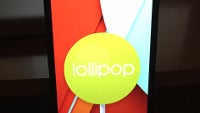 When it comes to the Google Play edition line of devices, the premise is clear: the search giant sends you a device stripped off of manufacturer skinning and instead gives you one running on pure Android so that it is a piece of cake to update it to the latest version. The latest such device to benefit from that arrangement? Sony's
enormous
Xperia Z Ultra.
The 6.44-inch behemoth of a "phone" started receiving the Lollipop-flavored upgrade over-the-air just yesterday, and some lucky owners are already enjoying the 5.0 version of Google's mobile OS. As we're looking at purely stock Android, there isn't anything special you'll find in this particular update. That said, the folks behind
TechTastic
, who authored the photo shoot, suggest that battery life may have gone up a little. Obviously, considering the attention that the so-called "Project Volta" received, we wouldn't be surprised if this is nothing more than a placebo effect – the real benefit of Volta lies in third-party app developers' new-found ability to properly disseminate their code and trace power-inefficient behavior.
But enough talk. Go ahead and check out what Android Lollipop looks like on the (GPe) Sony Xperia Z Ultra.
Recommended Stories