Certain versions of the Galaxy S7/Galaxy S7 edge lock to the carrier of the first SIM inserted
37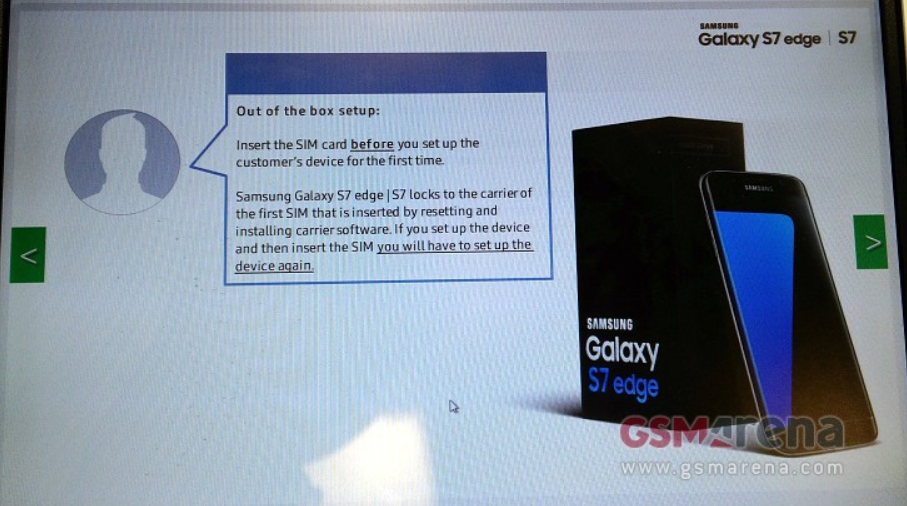 Message to reps reveals that carrier-branded Galaxy S7 and Galaxy S7 edge models will lock to the carrier of the first SIM card inserted into the device
Here is some interesting news. According to a leaked slide meant for the eyes of sales reps only, carrier-locked versions of the
Samsung Galaxy S7
and
Samsung Galaxy S7 edge
come out of the box unlocked, designed to lock to the carrier connected to the first SIM card inserted into the phone. Keep in mind that SIM-free and carrier unlocked models do not have this feature.
A photo of a slide, presumably from a slideshow presented to mobile carriers, tells reps to insert the SIM card in a Galaxy S7 and Galaxy S7 edge before setting up a customer's new handset for the first time. The rest of the message says that the Galaxy S7 edge and Galaxy S7 locks to the carrier of the first SIM inserted in the phone. The slide warns reps that if they set up the phone first and then insert the SIM card, they will have to set up the phone again.
By allowing the carrier-branded Galaxy S7 and Galaxy S7 edge to come out of the box unlocked (even if just for a brief period of time), carriers will no longer have to order a specific number of handsets locked to their network. We should point out that the unlocked version of both phones will be locked to the specific region where they are first activated.
The Samsung Galaxy S7 and Samsung Galaxy S7 edge
will be launched in 60 countries on March 11th
.
source:
GSMArena