Canada's Best Buy and Future Shop sell the Telus branded BlackBerry Passport for $199.99 on contract
15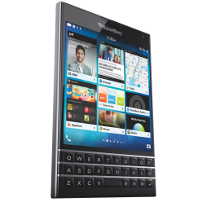 Eventually, AT&T will sell the
BlackBerry Passport
for a subsidized price in the U.S. But right this second, the closest that those living in the states can get to a subsidized price for the red hot business-oriented BlackBerry flagship, is the $199.99 for the Telus branded variant up in Canada. To purchase the BlackBerry Passport at that price, you must affix your signature to a two-year contract from the Canadian mobile operator, and purchase the device from Best Buy or the Future Group, north of the border.
The deal expires on October 30th; purchases must be reserved online and picked up from a brick and mortar store. Some have successfully been able to get Telus to price match, which might be important considering that online, it appears that there is no more stock available from either retailer. But that shouldn't surprise you. BlackBerry has taken the conservative route and
has built only a small number of units
in order to maintain equilibrium between demand and supply. This way, the manufacturer doesn't throw out money producing too many units.
While there is no precise date set for the Passport's launch via AT&T, it is expected to take place before the end of this year. Additionally, it will be an exclusive in the U.S. for the nation's second largest carrier. Early speculation has the BlackBerry Passport priced at $249.99 to $299.99 on contract when the handset gets to the U.S.
source:
Crackberry