New mobile browser Cake offers pre-loaded search results; app is available for iOS and Android now
2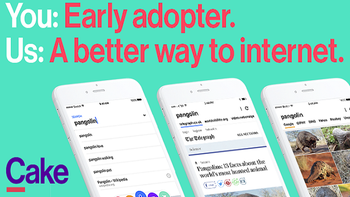 A new mobile browser with a unique method for reading search results has launched today. With the Cake Browser, instead of scrolling through a list of links, users swipe through search results as web pages. This is done "by suppressing the search index and immediately pre-loading search results so users can quickly swipe through content." The mobile browser is free (although ads are included), and can be downloaded right now from the Apple App Store, or the Google Play Store.
There is more to Cake than fast, swipeable search results. We noticed that our site rendered rather quickly, and swiping was smooth. One thing that we didn't see was a way to request the full desktop version of our site, or the New York Times. And pinch-to-zoom was not supported. Other features of the browser include:
Broader search results: Cake allows users to search across categories and multiple services at once, which pulls more results in images, videos, news, and shopping.
Personalized searches: In addition to allowing users to choose their preferred search engine (Google or Bing), Cake lets users choose and reorder their favorite sites within a category (like news, videos, images or online shopping) to get personalized search results.
Slices: Cake helps users cut through the clutter of generic search results by curating collections of websites that are most relevant to their search term.
"Mobile browsing in 2018 is still startlingly close to desktop browsing in the late 1990s, and it's time for that to change. At Cake, we re-imagined the browser to take full advantage of high-speed connections and touch-enabled mobile devices – something no one has really done for the smartphone until now."-Kendall Hulet, CEO, Cake Technologies
The company also announced today that it has received $5 million in funding from Peak Ventures, with participation from Pelion Venture Partners and Kickstart Seed Fund. To give Cake a try, click on the appropriate link: (
iOS
|
Android
).
source: CakeTechnologies