Buy a red hot HTC One with NextRadio service, get another one from Sprint for free
12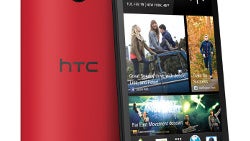 Sprint just announced a summer promotion for the
HTC One
that starts tomorrow, August 16th, and runs until August 30th. If you get the handset for the usual $199.99 on contract, you will get another one for free, and that goes for all three colors.
We say three, as the surprises from Sprint don't stop here - the carrier scored an exclusive
red version of the HTC One
, and it will be in the BOGO offer mix starting tomorrow, in addition to the silver and black chassis, so you can get any color combo of the two Ones you'd like.
Not only that, but Sprint has signed up for the
NextRadio service
, and will offer the app exclusively on the HTC One and
HTC EVO 4G LTE
handsets, and will spread the service to the whole Sprint portfolio in the coming months and years. NextRadio is not a simple FM radio app, as it allows you to tune into your local stations by genre or frequency, bookmark your favorites, get song details and album art, and even interact with calls and messages during radio talk shows.
Rock Out With New NextRadio App on Red Hot HTC One

Exclusively from Sprint Beginning Aug. 16
NextRadio seamlessly brings live FM radio with interactive content to Sprint smartphones
OVERLAND PARK, Kan. – Aug. 15, 2013 – Do you love rocking out to your favorite local radio station on your smartphone but hate the toll it takes on your battery when you stream? Music lovers rejoice! Sprint signed an industry first and will offer access to the new NextRadio® interactive FM radio application beginning with HTC One® and HTC EVO® 4G LTE. This deal will allow Sprint to provide the NextRadio service on a broad range of Sprint smartphone devices during the next several years.
With NextRadio, listening to FM radio on smartphones offers a new type of interactive radio listening experience. When compared with streaming, NextRadio consumes about three times less battery life than other music apps. That's because the audio is coming through a built-in FM tuner instead of over the Internet.
NextRadio is a free app that comes preloaded on HTC One from Sprint for all new activations. Customers who already own HTC One or HTC EVO 4G LTE from Sprint can download NextRadio through Google Play™ at no additional charge.
Don't have HTC One just yet? No worries! Beginning Friday, Aug. 16, HTC One is launching in a hot, new red color, exclusively for Sprint customers. HTC One in red will be available in all Sprint Stores, Sprint Business Sales, Telesales (1-800-SPRINT1) and Web Sales for $199.99 with a new two-year service agreement or eligible upgrade (excludes taxes and surcharges). The device is currently available in silver and black.
And to turn up the heat even more, from Aug. 16 through Aug. 30, Sprint will offer a special promotion to make it even easier for customers to get their hands on the HTC One with interactive FM radio from NextRadio. For a limited time and while supplies last, customers can purchase an HTC One and get a second one for free, in any of the three color options – silver, black or red1.
"Our customers already enjoy listening to a variety of music apps on their smartphones, but NextRadio makes it easier than ever to interact with the local radio stations they enjoy listening to in the car virtually anywhere," said Fared Adib, senior vice president-Product Development, Sprint. "Marking another innovation milestone for Sprint, our partners at NextRadio are transforming the FM radio listening experience by allowing users to interact with their favorite radio shows by calling or messaging directly from their smartphone."
NextRadio allows users to:
Browse stations in their local area by genre or frequency, set favorites, view recently played stations or use a traditional tuner interface
Call or text the radio shows they love, providing the ability to send instant feedback to the station whenever and virtually wherever they are listening
Watch music and talk come to life with album art, station logos, song and show details, and instant actions like sharing or purchasing songs right from their phone
A headset or speaker wire plugged into the 3.5mm stereo audio jack is required and serves as the antenna for the FM radio chip. Customers can easily find a radio station from the NextRadio onscreen guide, which is divided by music genre or selecting the station dial position. The app also includes radio station logos, slogans and programming description.
"We're excited that an innovative wireless carrier like Sprint is leading the effort to offer American consumers something they've always loved – listening to the radio – right in the palm of their hands," said Gordon Smith, president of the National Association of Broadcasters. "This service expands on that experience by enabling consumers to interact with local broadcasters directly through the application."
For more information about the NextRadio application, visit www.nextradioapp.com.