British Airways first European air carrier to allow gadget use during takeoff and landing
3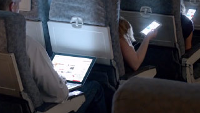 Back on Halloween, the FAA gave the flying public in America a treat by
allowing them to use their gadgets from "gate to gate,"
even during takeoff and landing. Of course, this does not include using your device to make phone calls or to surf the net. Earlier this month,
the FCC voted to remove the ban on such activities
during a flight, and it will be up to the DOT to make the final decision. Until it does, airline passengers can use airplane mode to listen to music or watch videos throughout an entire U.S. flight.
The U.K.'s CAA has agreed to the same rules as the FAA in the states for the time being, which means no internet, texts or phone calls on the plane. But like American passengers, those in the U.K.can use airplane mode to turn off the radios on their phone and listen to music or watch videos. British Airways will be the first airline in Europe to allow passengers to use their gadgets throughout a flight as long as the radios are turned off. The changes start today and don't include laptops.
By not requesting that the a flight hits a certain altitude level before allowing the gadgets to go on, BA's flight training manager, Captain Ian Pringle, says that the average passenger will gain an extra half hour of screen time during each flight. Earlier this month, the European Aviation Safety Agency said that it is now up to each airline to decide whether or not to allow passengers to use their phones from gate to gate. We get the feeling that the other air carriers are looking to see how British Airways fares before allowing passengers to power on a smartphone while taking off or landing.
source:
Engadget