Bring your Pixel 2 or Pixel 2 XL to T-Mobile and get back 34% to 50% of your purchase price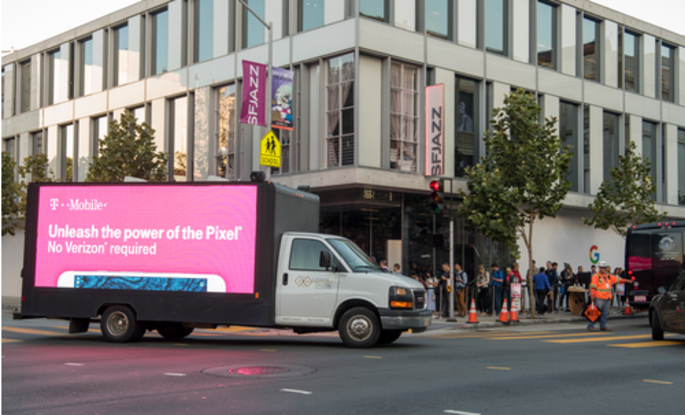 T-Mobile promotes its Pixel deal by driving a mobile billboard throughout the streets of San Francisco
Even though Verizon is the only major U.S. carrier offering the
Google Pixel 2
and the
Google Pixel 2 XL
, T-Mobile is offering a deal that will result in a 34% to 50% refund on the purchase of a Pixel 2 or Pixel 2 XL. Here is how it works. Take the 64GB Pixel 2 that you've purchased from Verizon, Google, Best Buy or another other retailer. Port over a number or activate a new line of service. Sign up for T-Mobile One, and pass along the proof of purchase information using T-Mobile's online validation site. The $325 will be sent to you in the form of a prepaid MasterCard. Existing T-Mobile customers can also take advantage of this deal by adding a line with T-Mobile ONE or Simple Choice Unlimited.
While the $325 happens to be 50% of the cost of a 64GB Pixel 2, you can bring in a 64GB Pixel 2 XL and still get $325 back. That works out to a 38% refund. The $325 refund amounts to a 43% return on the 128GB Pixel 2, and a 34% return on the 128GB Pixel 2 XL.
"Verizon wants you to use your Pixel 2 on a network that's struggling to keep up with unlimited data. And they claim the Pixel is 'exclusive' – just like they claim to have a better network. I'm here to tell you it's all BS! The Pixel 2 works great on T-Mobile, and now you can get it for half off when you come to the Un-carrier and #BYOPixel."-John Legere, president and CEO, T-Mobile
In addition to supporting the carrier's low frequency 700MHz spectrum and Wi-Fi Calling, the Pixel 2 and Pixel 2 XL are both compatible with T-Mobile's 3 Carrier Aggregation, 4x4 MIMO, and 256 QAM.
For more information on this deal, you can click on www.t-mobile.com/pixel2, or visit your nearest T-Mobile location.
source: T-Mobile