Boxed HTC One (2014) unit hits eBay, is quickly sold for $499.99
90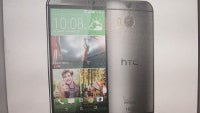 As we guessed earlier today
, we are back with yet another HTC One (M8)-related leak before the day is even out. This time around, some sneaky person has apparently, somehow, managed to get his hands on a Verizon-branded, fully-boxed HTC M8 and has already managed to sell it on eBay after a short bidding exchange that saw the price shoot up from the initial asking price of $199 all the way up to $499.99.
The loosely-controlled stock of the HTC One 2014 is nothing new -- we've been reporting on leak after leak this past week. What's new, however, is that HTC has obviously decided to stick to the same flagship name, as seen from the actual retail packaging. That's a rather strange, not to mention confusing, decision, so it wouldn't be surprising if we end up referring to its new top shelfer as the HTC One 2014.
Whilst we're still on the topic of the box, it's worth pointing out that much of
the rumored specs
seem to be on target. The packaging clearly states that the 5-incher will, indeed, come packing a quad-core Snapdragon 801 processor along with 2GB of DDR2 RAM. The 'Duo Camera' will, as rumored, boast UltraPixel tech, though the exact pixel count isn't being disclosed. This doesn't hold true for the front camera, however, so expect a 5-megapixel BSI unit with wide angle, HDR-capable lens, and support for 1080p video capture.