HTC confirms it will officially unveil its next flagship on March 25th
34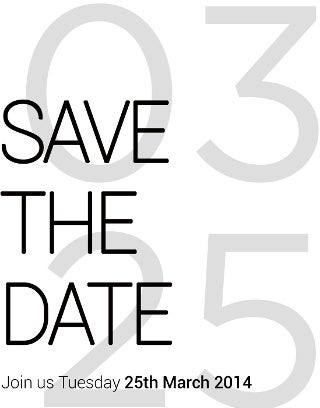 HTC has just sent out official press invites for an event dedicated to the company's
"primary flagship for 2014."
HTC has scheduled the big unveiling for March 25th, and the event will take place in New York and London simultaneously. Of course, expectations are that we'll finally see
the HTC M8, the successor to the 2013 HTC One
.
There is still more than a month until the official unveiling, but by now we have already been flooded with leaked images and whispers about the HTC M8. The HTC M8 is just the codename for the upcoming device, and speculations run rampant about what the official name of the phone will be. We have heard rumors about it being called
'HTC One Two', 'HTC One (2014)', 'HTC One Plus'
and others, but the name will likely be something HTC decides on in the last moment, so we would not bet on anything just yet.
Apart from the name, rumors have been pretty consistent in their portraiture of the HTC M8. Nearly all agree on a 5-inch 1080 x 1920-pixel display, an improved quad-core Snapdragon 800 system chip, and on one radically new feature - a twin camera on the back. The M8 is basically expected to ship with a total of three cameras: one on the front, and two on the back. Those two rear cameras should be able to fire at the same time, and capture additional information about a picture such as its depth. This could speed up the photographing process, and allow users to select focus after the image has been captured, not before as the standard is right now.
For all else, the HTC M8 is expected to feature looks and design similar to that of the original HTC One. Luckily, we'll finally learn all about it on March 25th.